Our European products
Below you will find an overview of our product range for the treatment and control of water in terms of quality, purity and safety.

We work closely with a select group of European partners and all products are also manufactured within Europe. With this we demonstrate that high-quality European products can also be supplied at an affordable price without the need for production to be moved outside the EU. This means a short delivery time, a lower CO2 footprint, a higher degree of sustainability and minimal dependence on intercontinental supply chains and transport lines.

Choosing H2Optimizer is choosing Made in Europe.

Countries of origin:
Netherlands, Belgium, Estonia, Austria, Italy, Scotland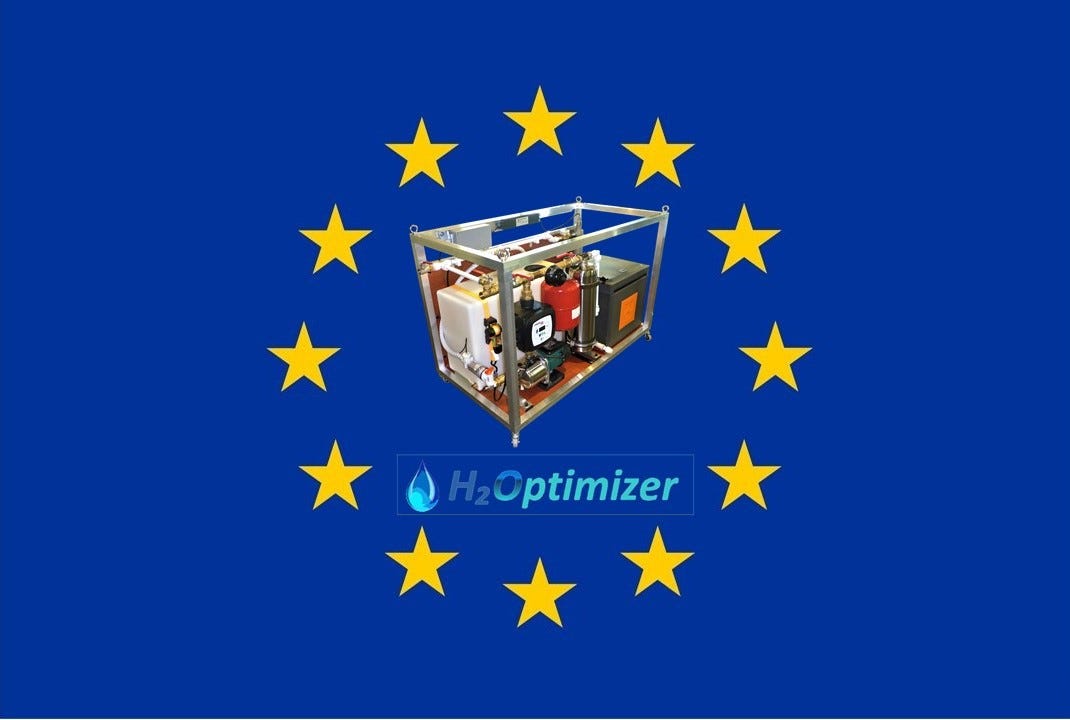 Pre-filters & flush timers
Anyone who attaches great importance to really pure, clear and vital water is willing to invest in it. In quality products that have distinguished their effectiveness and durability in tests, produced by manufacturers that are leaders in their market segment through innovation and user-friendliness. Those who choose equipment of such high quality want to protect their investments as well as possible to prevent malfunctions or permanent damage. It is therefore advisable to protect your water treatment system with an effective pre-filter. The investment in a pre-filter can pay for itself very quickly. Flushing timers are used to keep little-used water pipes free of biofilms to prevent, for example, the legionella bacteria.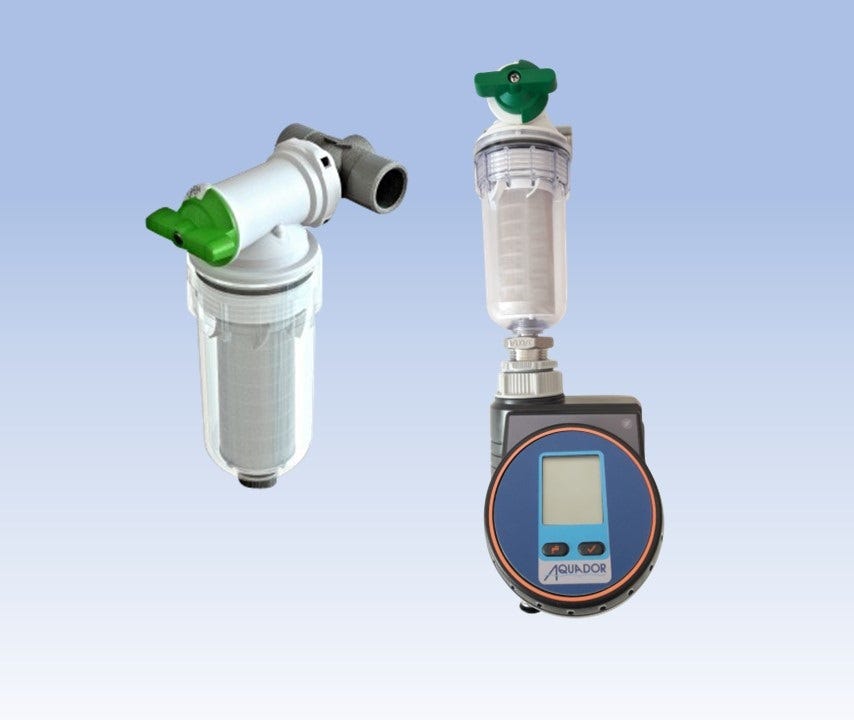 Delta Talent water softeners
The Delta water softeners distinguish themselves from other brands by a number of unique specifications and innovations, such as:
Do not use electricity or batteries
Compact and flexible design of the simplex and duplex models, fits in any cabinet or space
Working water-controlled, fully automatic on the internal water pressure
Only regenerate when completely saturated: low water and salt consumption
Manual adjustment to local water hardness, always optimum efficiency
Possibility to set a residual hardness according to your own preference
Delta water softeners are 100% recyclable

Your advantages with a Delta water softener directly behind the water meter are:
Scale-free water in the entire home or business space
No limescale deposits in water pipes and water devices
No limescale deposits on sanitary facilities: less soap, cleaning and cleaning agents
Savings on cleaning time and costs, longer life of water equipment
No limescale deposits in water equipment saves energy costs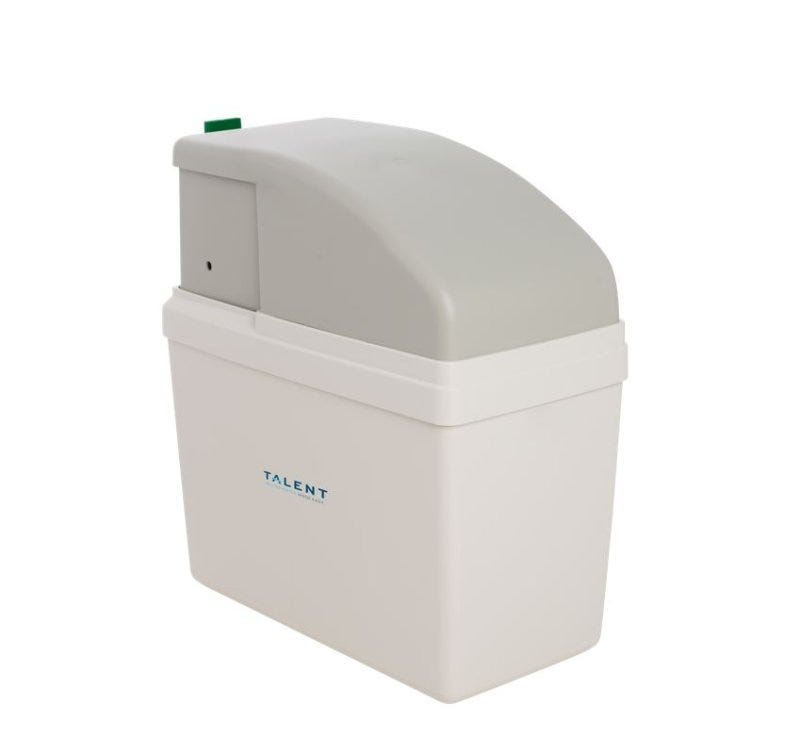 Sustainable water treatment: AguaVibes
The AguaVibes Water Activator is a sustainable way of improving your water quality.
The system uses Pulse Ion Activation (PIA) technology and processes the water with pulsating fields, does not add or remove substances, but changes the structure of hard lime particles in the soft aragonite. This soft shape has less adhesive properties and is therefore less attached to your pipework or plumbing. For 100% lime-free water, use our Delta water softeners. Is 70 to 80% less lime (scale) acceptable for you? Then the AguaVibes water activator is a great alternative.
Another advantage of this PIA technology is that the device is maintenance free. The power consumption is minimal: it only costs about € 2 per year.



Aquaphor water filters
Aquaphor is a leading manufacturer of water filtration systems and Reverse Osmosis drinking water equipment with innovative and patented solutions for long-term high-efficiency application of water treatment techniques.
For so-called Point Of Entry (POE) use, we apply two Aquaphor models, for purified water in the entire home or business space:
Aquaphor Viking series with stainless steel housing and filter elements with the patented Aqualen technology
Aquaphor Big Blue Gross series with Aqualen or polypropylene filter elements

The filter elements with patented Aqualen technology not only remove solid particles from your tap water, but also eliminate heavy metals, chemicals, medicine and drug substances, pesticides and PFAS. The ionizing Aqualen minerals attach these substances to themselves and retain them in the filter element, but allow the useful minerals in the tap water such as calcium and magnesium to pass through.

The H2Optimizer Vital series water filters basically consist of the Aquaphor Viking water filters, but are additionally equipped with an external water vitalizer unit which is mounted on the standard Aquaphor Viking water filter. In addition to purification, the tap water is also vitalized by giving it back its natural own frequency.


The EWO water vitalizer
Nature was and is the model for the development of the EWO method.
The wealth of experience of many pioneers in the field of water research forms an important basis for the construction of EWO water optimization devices and vitalizers.
Thanks to the research work of these scientists, we know that three factors are crucial to revive and revitalize tap water and thus regain its natural vibrancy and vitality:
swirl (vortex method)
magnetization
information transfer (from natural spring water)
Aquaphor RO-101S Reverse Osmosis
Aquaphor is an innovative manufacturer of, among other things, Reverse Osmosis drinking water equipment with patented solutions for a long-term high-efficiency application of water purification techniques.

For filtered water at tapping points (Point Of Use - POU) we supply the advanced Aquaphor Morion RO-101S reverse osmosis system. The innovative feature of this drinking water machine is the flexible integrated osmosis water tank. This is built into the water container and operates on the water supply pressure. The big advantage of this Aquaphor patent is that you do not have an external water pressure vessel next to the RO machine, which has to be built into the kitchen sink next to the RO machine. The RO-101S Morion reverse osmosis system covers all the problems of domestic water purification and completely replaces premium bottled water. The quality of the incoming water does not matter, the RO-101S Morion membrane is a long-lasting shield against toxins, heavy metals, pesticides, bacteria and viruses.

The system is designed differently from the classic RO systems. Thanks to the innovative Aquaphor water-in-water tank, it takes up half the space under the sink due to the lack of a separate external water tank, saves up to 9 tons of water per year and works even at low pressure in the water supply. The savings compared to buying bottled water are significant with a guaranteed high quality cleaning of 99.9%.
With RO-101S Morion, there is plenty of clean, soft and tasty water for drinking, cooking, baby food and household appliances. Morion completely removes hardness salts from the water, making the coffee machine, kettle, iron and steamer last longer. And your humidifier no longer covers the furniture with white dust.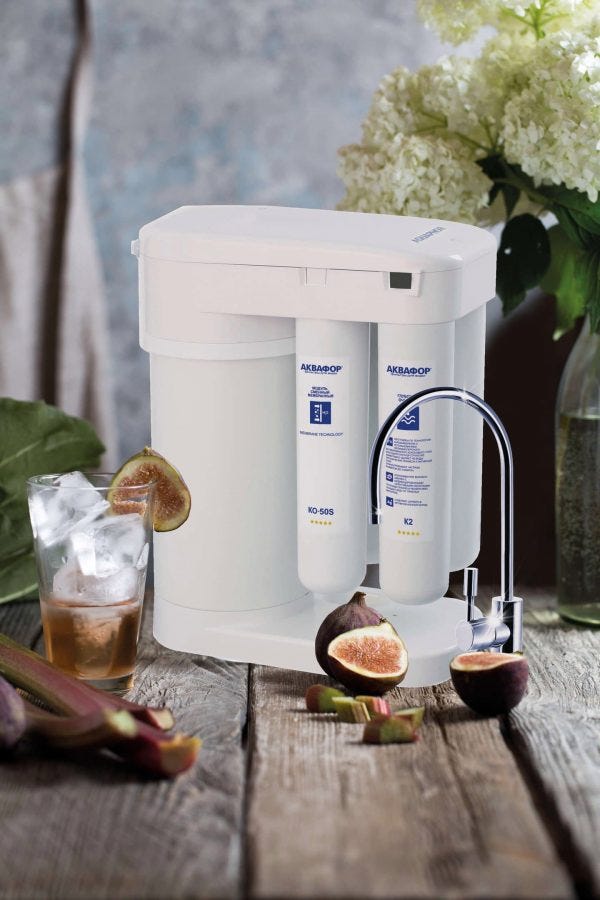 Aquaphor Professional
In addition to water filters and Reverse Osmosis (RO) systems for small-scale use at home, in a practice or office space, Aquaphor also has a division for commercial applications and large-scale industrial use, which is what the Aquaphor Professional division is involved in.
Aquaphor Professional designs and builds Reverse Osmosis (RO) and ultrafiltration systems (UF) as well as combinations of these two techniques (UF-RO). In addition to a line of serially produced models, Aquaphor Professional is mainly known for turnkey projects with installations according to the client's requirements. General characteristics of the Aquaphor products are their high effectiveness thanks to groundbreaking Aquaphor patents, low noise, energy-efficient, easy to maintain and the very favorable price/quality ratio.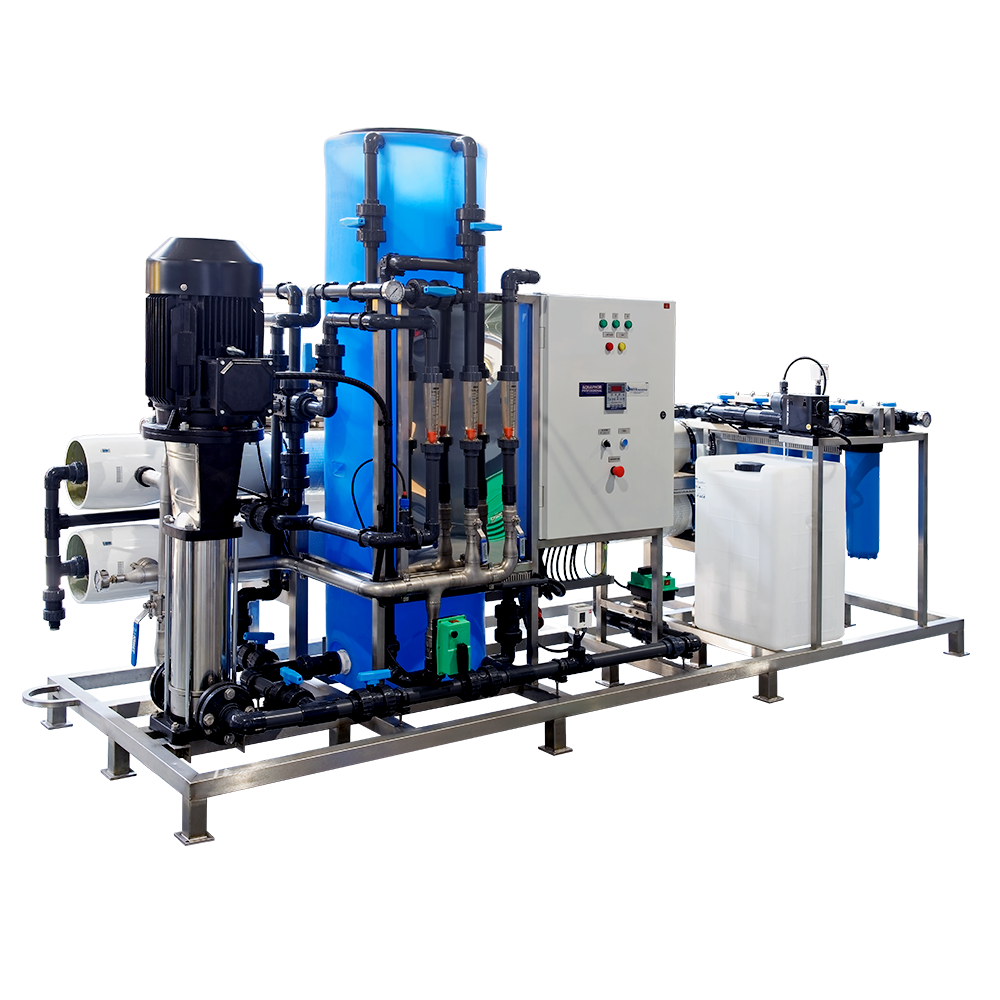 H2Optimizer water treatment units
In addition to supplying individual components, we also put together complete water treatment systems using the same high-quality components as described above. And of course tailor-made and tuned in accordance with your specifications and requirements.
Our H2Optimizer units are delivered ready to use and find their way into a diversity of sectors. Think of applications in the maritime field such as (cruise) shipping and offshore activities. But also solutions in the field of a drinking water supply in temporary accommodations of contractors on construction sites. Or tap water treatment at campsites and holiday parks, in office units and multi-company buildings, and so on.

In short, are you looking for a solution in the field of water quality, water hygiene and water safety? Then contact us. H2Optimizer (almost) always has a solution for your problem!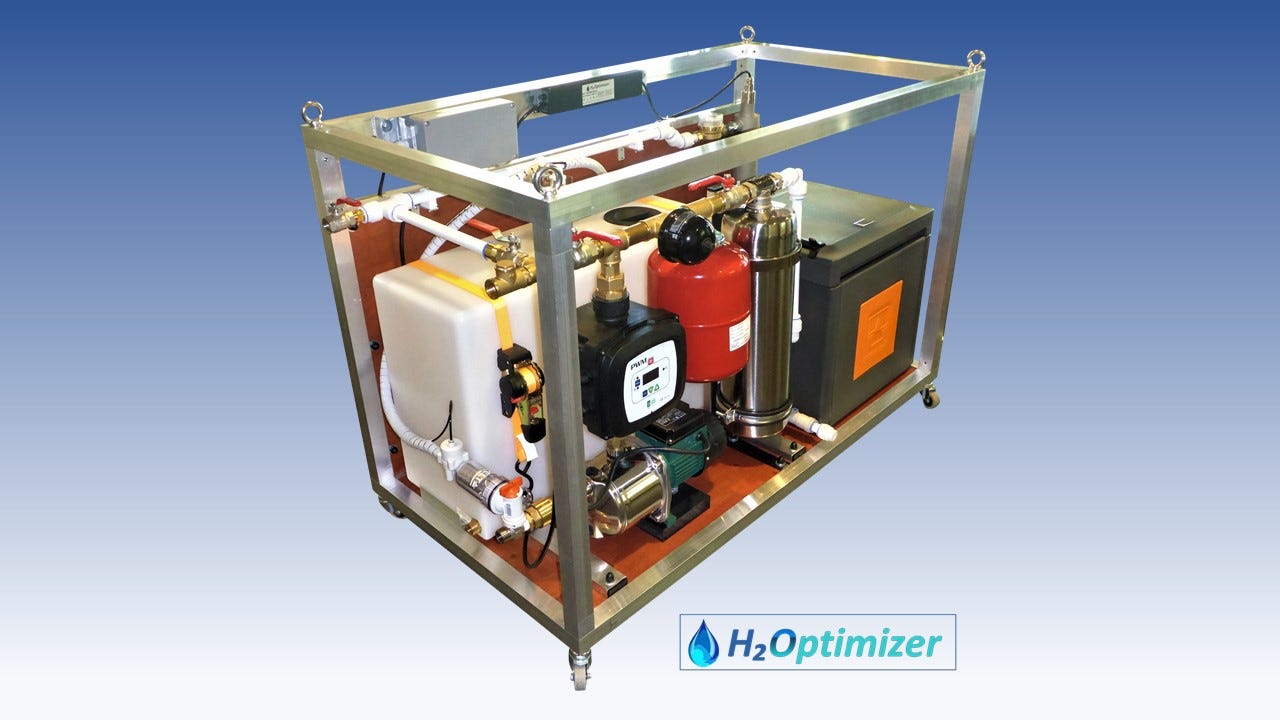 H2Optimizer UV-C water sterilizers
Our series of UV-C water sterilizers have been replaced by a new generation. The new generation of UV-C water sterilizers has ultraviolet lamps that produce less heat than the old series with amalgam UV-C lamps, which is an advantage when there is no flow of water for some time. Less heat emission means that less power is consumed, making these sterilizers more energy efficient. Nevertheless, the new UV-C lamps have a 'high-output', which makes the installation dimensions very compact.
The new range has been further improved by a higher water pressure resistance and no longer has plastic parts but consists entirely of high-quality stainless steel 316.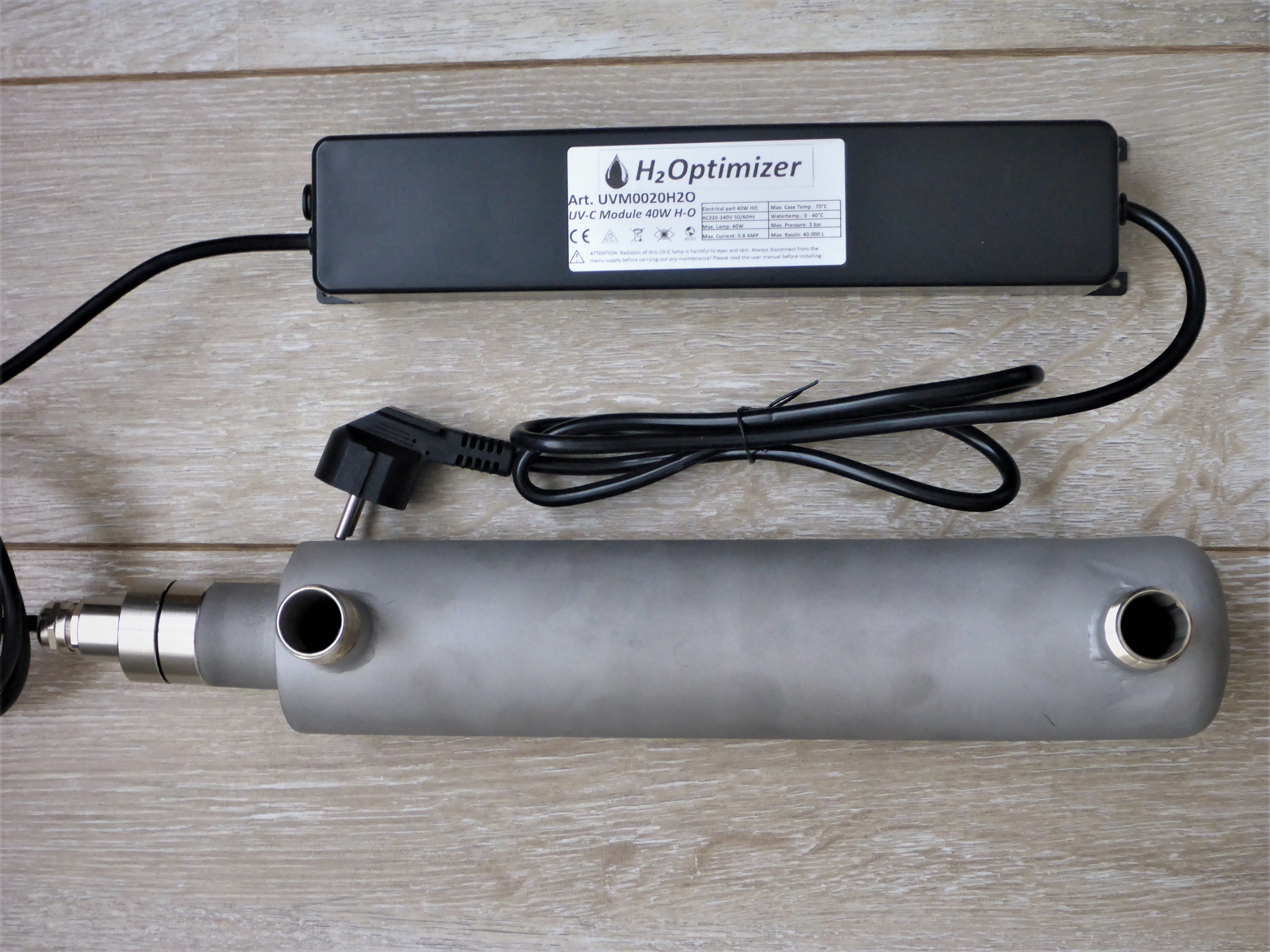 Hydrosense Legionella rapid on-site test kits
Hydrosense is a manufacturer of rapid test kits for the detection of Legionella pneumophila SG-1 bacteria, the cause of the notorious Legionnaires' Disease. The essential advantage of the Hydrosense self-test kits is that you as a manager or responsible for water quality, water hygiene and water safety can now quickly and efficiently test water samples yourself, with a reliable result within 30 minutes and that you can get the test result directly from the location with the with final responsibility via the free Hydrosense Pro portal on your smartphone.

The major advantages of the Hydrosense Legionella self-rapid test kits are:
Quickly test water samples on site, result within 30 minutes
No special training required, clear video instructions per test kit available
Individuals can use this to test their Jacuzzi and pool water themselves
No intervention of laboratories with culture tests and results only after 2 weeks
Also faster than PCR testing, and with much higher reliability
Test samples on-site, no risk of contamination during the transport of test samples
Hydrosense also detects Legionella bacteria in VBNC stages
Test kits available for water samples and surface samples (swab tests)
Test kits available with high sensitivity (<100 CFU / ltr)
Share test results directly from location via the free Hydrosense Pro portal per smartphone
Substantially cheaper than culture or PCR test via a research laboratory

The Hydrosense test kits are supplied by us to all application areas where water safety is of the utmost (life) importance. Think of the maritime and offshore sector, temporary water facilities at, for example, construction sites, office buildings, care institutions and practice rooms, hotels and guesthouses, restaurants and bars, spa & wellness, air-conditioning heat exchangers and cooling towers, sports and convention accommodations including shower facilities, and so on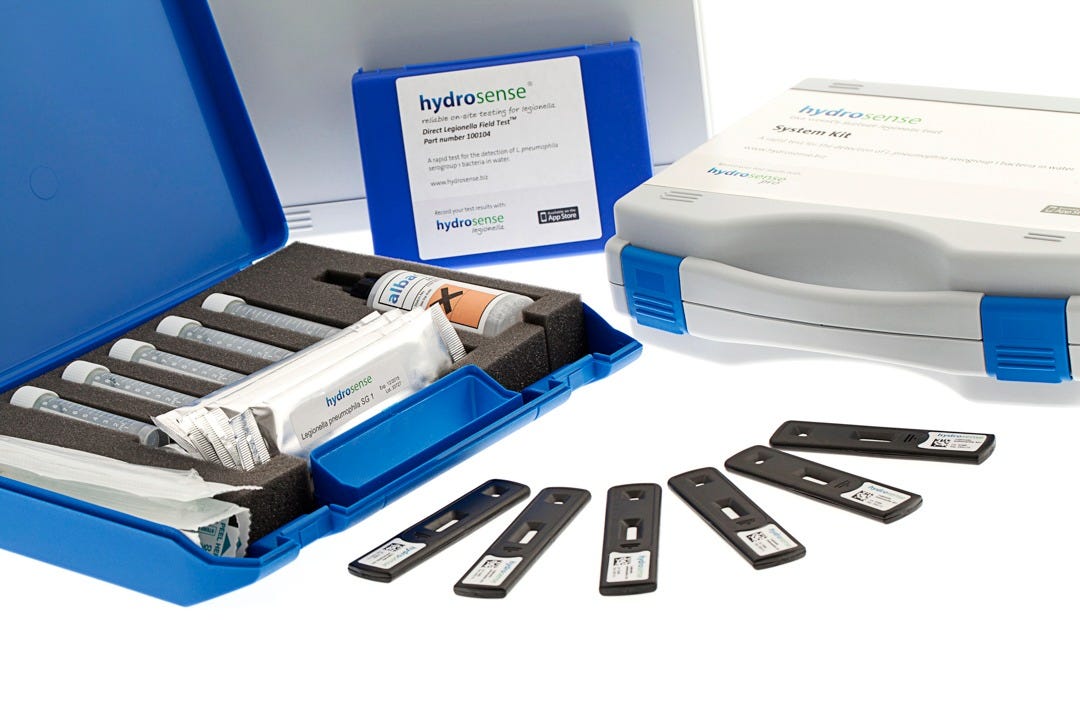 Airfixr air disinfection devices
The air we breathe is one of our most important basic needs. Unfortunately, our air is not equally clean everywhere. Infectious bacteria, viruses and fungi spread easily through the air and can make us sick. In addition, air can contain pollen and dust particles that can trigger allergic reactions such as hay fever.

Airfixr air disinfection units ensure reliable air purification in all types of rooms up to 150m3 or a multiple by installing two or more units.. Larger amounts of m3 can also be filtered by placing multiple devices in a room. The Airfixr is extremely suitable for professional use and has a high price/quality yield per m2. The unit is quiet, easy to install, ready to use and easy to use. All this makes this device attractive for numerous applications.