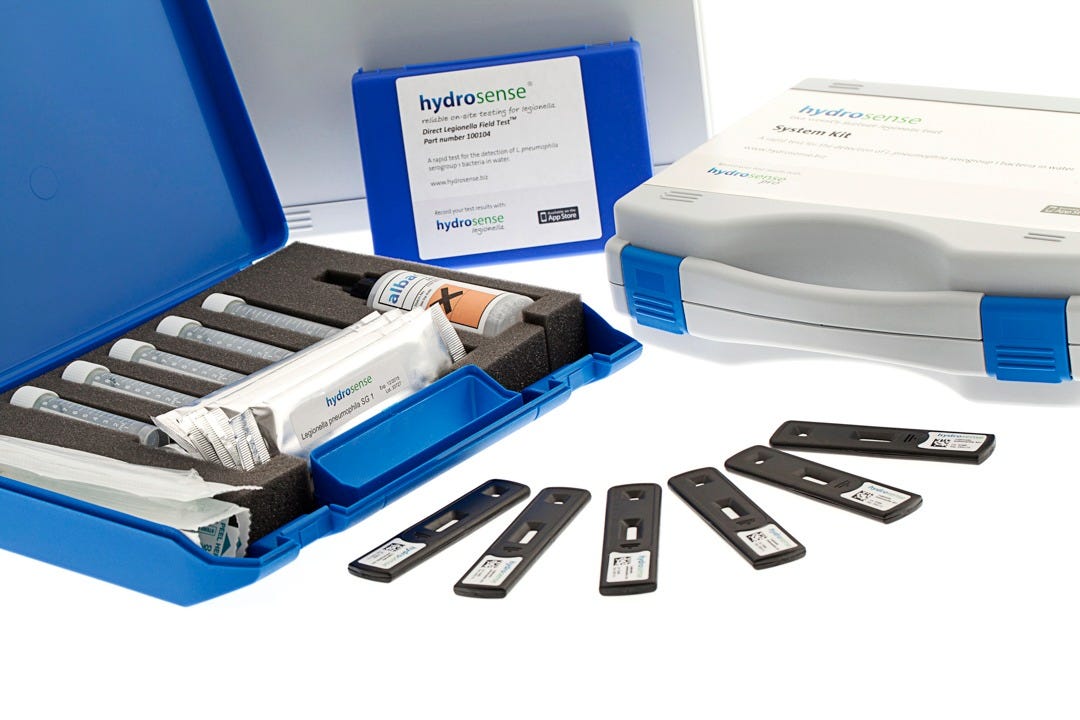 Hydrosense rapid on-site legionella test kits
Suspected Legionella pneumophila Sero Group 1 contamination? Take the Hydrosense rapid test!
No more long waiting times for results from a laboratory culture test or a less reliable PCR test. With the Hydrosense Legionella Field Test Kits you can easily test water samples on location. Also on legionella bacteria in VBNC stages.
Reliable test results in 30 minutes at the test location, share the results directly with the responsible manager via the free Hydrosense Pro portal app on your smartphone.


Hydrosense - Smarter test, safer water
Safe water to consumers
We at H2Optimizer can upgrade your tap water at the 'Point Of Entry', or POE for short, to a very high level of quality, purity and safety. Up to a clinical standard.
But the purity of your water at the tap and consumption points, the 'Point Of Use' or POU is determined by the condition of the water pipes after our water treatment unit. A biofilm may have formed on the inside of the pipes, which is an ideal basis for the growth of microorganisms such as the legionella pneuphilia SG1 bacteria, which is responsible for the life-threatening Legionnaires' disease!
When a pipeline network has been out of service for a longer period of time, for example as a result of a Covid-19 lock down, this danger even increases exceptionally.

Therefore, regularly test your tap water!

We can arrange this for you, but you can also quickly and easily test this yourself with our Hydrosense Rapid Legionella Field Test kits. A reliable fast test result on site in just 30 minutes!

Our Hydrosense legionella rapid test kits are available in several versions for testing all types of water sources: read below.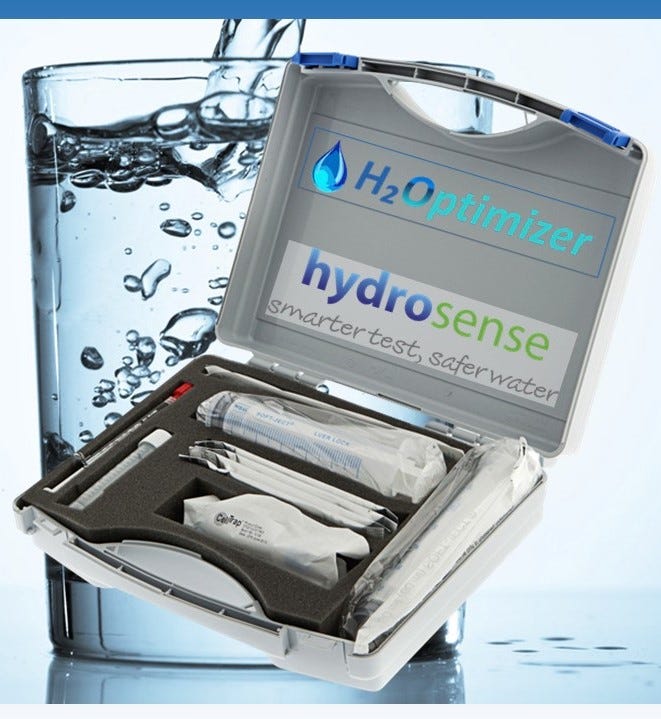 Hydrosense Pro Smartphone Reader App & Portal
To complement the already significant time-to result saving (10 to 14 days for lab culture tests versus 25 minutes for the rapid on-site test) and further accelerate the decision-making process when Legionella is detected in a water system Hydrosense developed the Hydrosense Pro Smartphone Reader App and an Online Portal. These tools, when combined, provide the fastest way to progress from taking a water sample to providing an actionable result to the duty holder for the facility being risk managed for Legionella.
Hydrosense Pro offers additional benefits to all customers:
The App makes it easier to read the test accurately. It provides a user with a semi-quantified result by returning a score of "0" for no Legionella detected, or a Hazard Index of "1-10" depending on the concentration of the Legionella found.
Data collected by the App is automatically synchronized with the Portal. This real-time integration ensures that a track record is kept of all results and helps to identify future trends.
All results are stored in a central, secure database; providing a better dataset for epidemiological and risk analysis.
Recorded information on location, time and the type of system being tested allows identification of areas of increased risk. Consequently, enabling the user to effectively mitigate any risk by making better-informed decisions.
Hydrosense rapid test sets are there for the high-risk sectors:
Cooling towers
Hospitals & care homes
Spa pools & fountains
Hotels & hospitality
Facilities management
Car washes
Shipping & off-shore
Domestic water systems
Hydrosense Legionella Field Test Kits
Hydrosense is a pioneer in the rapid testing industry. By applying environmental technology in an industrial environment, the specialists have developed a new on-site testing method to detect deadly Legionella bacteria in water and biofilm.

Hydrosense is the world's only rapid test kit for Legionella bacteria that can be performed entirely on site and requires no training or experience.

Until the development of the Hydrosense test, the gold standard for the detection of Legionella was the laboratory culture method. However, this method takes 7-14 days for an outcome to be available, during which time a disaster scenario can develop. The alternative PCR test is much less accurate. And neither method does not see the VBNC's (Viable But Not Culturable). These are bacteria that are present, but not yet active. Under ideal conditions, however, these can develop into an active stage in no time and grow explosively. The Lateral Hydrosense Legionella test method does detect the inactive presence of VBNCs.

Hydrosense Legionella field test:
Simple to use - no training or experience required
Fastest available test for reliable Legionella test results within 25 minutes
No additional equipment needed to measure or handle
Hydrosense Smartphone Reader App reads and quantifies the test results
All data can be stored and managed in the Hydrosense Pro online portal.

The Hydrosense Legionella Fiels Test Kits are available in several versions: for high or low sensitivity, for water and / or biofilm samples, for incidental or frequent sampling. See the right column for this.
Hydrosense EU-Multi Legionella Test Kit range
The Hydrosense EU Legionella Test Kit range is designed for those who follow the action levels set by the European Technical Guidelines for the Prevention, Control and Investigation of Infections Caused by Legionella (2017), including those set out in:


Action levels after microbial monitoring for cooling towers (Table 4, page 73)
1000 CFU / L action: evaluation of risk assessment, program operation and monitoring of
results
10,000 CFU / L Action: Implement corrective actions


Action levels after legionella sampling in hot and cold water systems (Table 6, page 96)
1000 CFU / L Action: repeat samples, review controls, feed
remedial measures OR consider disinfection
10,000 CFU / L Action: Re-sample and assess control measures
immediately and perform a risk assessment


Action levels after legionella sampling in spa baths (table 7, page 100)
10,000 CFU / L Action: Close pool immediately and exclude the public from it
area. Shock dose pool, drain, clean and disinfect.

Note: the above is a summary. Consult the latest version of the document when determining your water management plan.

The sampling procedure has been updated to provide a clear call to action for our customers.

The sensitivity of the EU kits is 1000CFU / L. The visual scorecard included in the kit allows users to determine action levels: score of 1 or higher is = ≥1000 CFU / L and score of 6 or higher = ≥10,000 CFU / L.

Note: If you want to test at the lowest EU action level of 100 CFU / L, our standard test kits can be used for this purpose.

The Hydrosense EU-Multi range includes:

Hydrosense /EU/ Multi Legionella Water Test
EU Single Syringe Test Kit - SKU 100254 (1-pack)
The most flexible and convenient test kit. Allows sampling of water from any source.

Hydrosense /EU/ Multi Legionella Industrial Kit
EU Industrial Test Kit - SKU 100264 (5-Pack)
It comes with the industrial pipe adapter which can be installed where repeated sampling is required. Recommended for cooling towers, water tanks, shower heads and others.

Hydrosense /EU/ Multi Legionella Complete Kit
Risk Assessment EU Test Kit - SKU 100263 (2-pack syringe test and 2-pack swab test)
Includes water and biofilm testing. It is perfect for assessing different types of risks and identifying the source of infection. This kit is also a perfect solution to evaluate different Hydrosense testing options.
Suffering from legionella infection?
Install our H2Optimizer INOX series UV-C water sterilizers for industrial applications!
Our H2Optimizer INOX series water sterilizers have been specially developed for industrial applications under harsh conditions.
The INOX models are made entirely of stainless steel and contain no external plastic parts.
By using special High Output UV-C lamps, a high ultra-violet intensity is achieved with compact UV-C lamps. As a result, our INOX models fit seamlessly into almost all areas of application. Especially for smaller installations where UV-C water disinfection is necessary, the H2Optimizer INOX ultra-violet water sterilizers always offer a suitable solution!
The current INOX range includes three types: 16, 40 and 80 Watt at AC230V voltage.