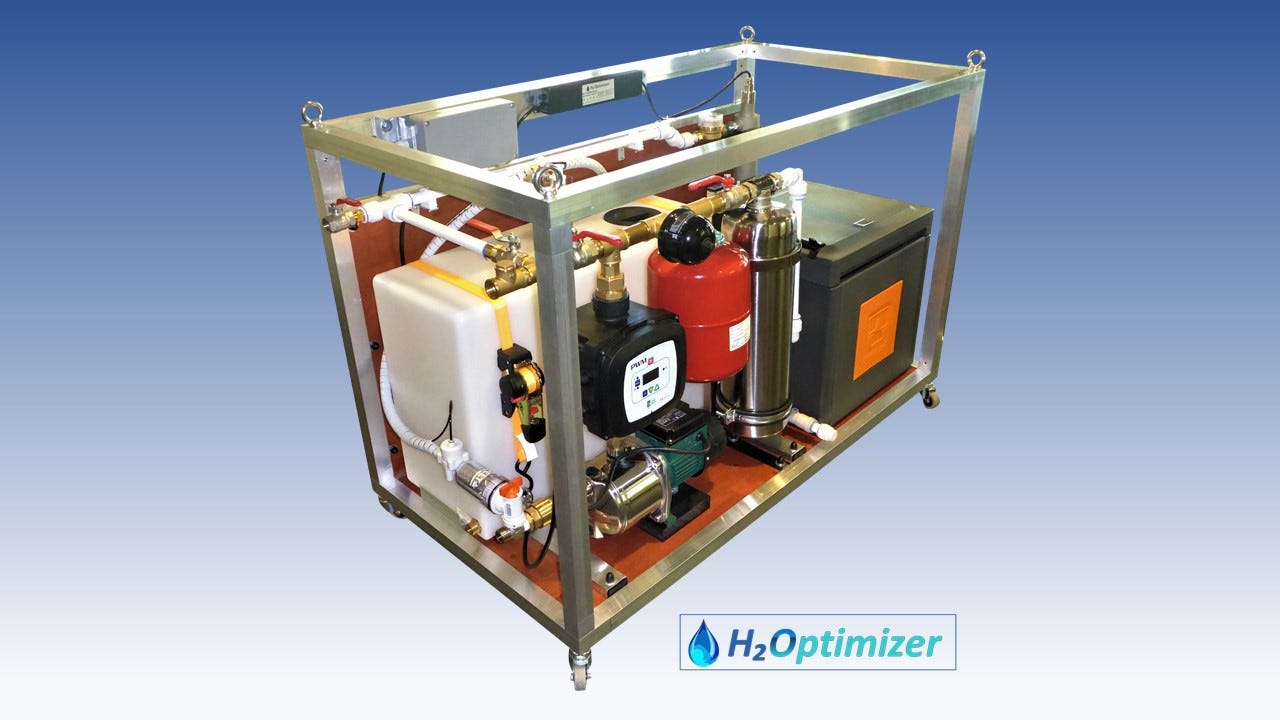 H2Optimizer water treatment units
Our H2Optimizer water treatment units are used in all areas, wherever high demands are placed on water quality, water hygiene and water safety. Our range of separate components in combination with our own assembly means that we operate very flexibly and work customer-oriented with tailor-made systems. You can choose from combinations of water softening, water filtering / iron removal and UV sterilization. For both temporary and permanent solutions.

Water safety is also very important to us. With our Hydrosense-Legionella rapid test program, a reliable analysis can be performed on-site of both water and biofilm samples. In just 30 minutes you have the results both on-site and digitally with the Hydrosense Pro app with at least the same reliability as a laboratory culture test. And the Hydrosense rapid test is not only much faster than a culture test and more reliable than a PCR test, but also considerably cheaper!
The best result with customization!
The various water treatment components in our range must meet a number of essential criteria and requirements to be admitted, such as having a high quality standard, a high yield and degree of efficiency and being flexible in use.
This enables us to solve your water quality problem in the most optimal way by means of a tailor-made package.

On the left and below you see a demo example of a water treatment unit for the marine application. But these units can also serve, for example, as (temporary) drinking water supply systems, such as in mobile accommodations of contractors at new construction locations, at temporary outdoor event locations, a backup emergency drinking water supply, etcetera.
Water treatment systems from small to large
H2Optimizer Vital Midi & Maxi - Standard
Standard version of Viking Midi water filter housing + EWO Classic water vitalizer mounted in line, with flexible hoses.
H2Optimizer Vital Midi & Maxi - Compact
Special version of an identical filter combination, custom-made for installation in a service cupboard with limited installation space.
Professional solutions from small to large sized
Together with our partner Aquaphor, we offer tailor-made solutions from small to large sizes, industrial water treatment systems and for various degrees of water quality problems. From iron removal, (pre) filtration, ultra-fine filtration, reversed osmosis to a fixed or containerized mobile water purification installation.
Benefit as a private individual from the knowledge and experience of the professionals!

Download Aquaphor Professional catalog_EN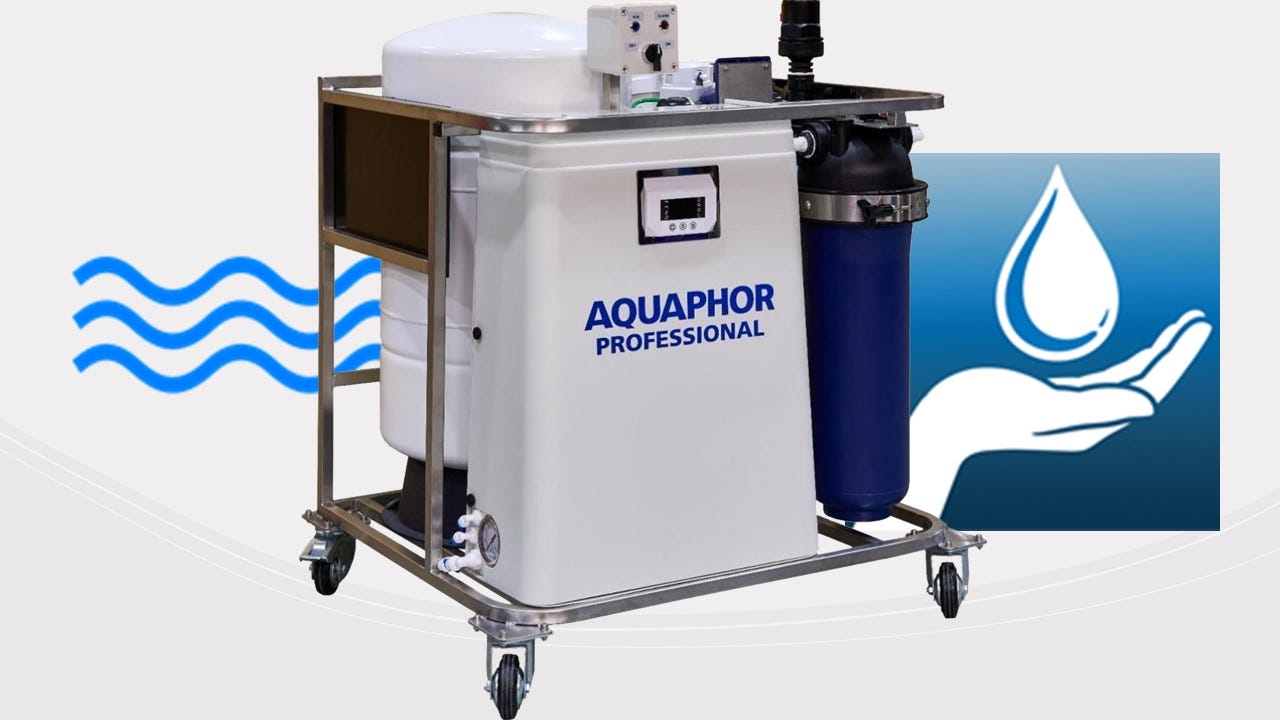 New development:
From outboard water to drinking water with our new H2Optimizer WMS / Aquaphor APRO 120 UN series
H2Optimizer / Aquaphor Professional - APRO 120 UN
The all-in-one water purification station
A TOTAL WATER TREATMENT STATION PROVIDING PREMIUM QUALITY DRINKING WATER UNDER EXTREME CONDITIONS. SUITABLE FOR ANY WATER SOURCE *).

*) Except for seawater and water with a high oil content
Ultra-low energy consumption for "Plug & Play" water purification with limited space and access to electricity:
• Emergencies without access to clean water and limited access to electricity
• Maritime facilities (ships, off-shore platforms, remote inhabited islands, etc.)
• Research stations (permanent or temporary), holiday chalets, etc.
ADVANTAGES
• Patented ultra-low energy consumption technology saves up to 50% energy and allows any
power source: a small solar panel, car battery (with an adapter), electrical network (DC)
• Remineralization function provides an optimal balance of minerals for health

STATION EQUIPMENT
• Self-priming lift pump with suction line & washable supply strainer for open water sources
(standard model not for salt or oleiferous water)
• Automatic disinfection system
• Patented pre-filtration cartridge with anti-scale effect (Viking PRO-H)
• Innovative dual pump reverse osmosis (RO) system
• Permeate remineralization with microfiltration 0.1 micron (K7B)
• Accumulation tank 80 litres

KEY FEATURES
Permeate flow 120 litres/hour
Membrane number 2
Membrane type 600GPM
Pre-filtration membrane B520-H
Max inlet TDS, ppm 2000
Salinity reduction, % Up to 95%
System Restore 50-75%
Inlet pressure, bar 1-4
Power supply 24VDC (adapter AC220/DC24 available)
Dimensions (LxWxH), mm 685x780x925
Net weight, kg 75



What is in our Rhine water?
Large volume consumer? Aquaphor Professional has the solution for now and your future growth. Very easy!
Our Aquaphor Professional Monoblock concept is innovative, multifunctional, versatile, highly efficient due to the modular configuration (space-saving), very quiet, cost-effective, easy to operate (remote control) and maintain.
Aquaphor Professional also supplies combined water treatment systems, for example reverse osmosis + ultra-fine filtration (APRO UF-RO models).
Explanation:
POU (Point Of Use) : 1 tap point
POE (Point Of Entry): water treatment system for the entire home or building
No project is too small or too big for our professional solutions: