Aqua Purica water filters
The Aqua Purica Royal series water filters consist in the base of Aquaphor Viking series water filters, but as an extra have a special vitalizer tube (vitalizer) which is integrated in the core of the water filter element.
Vitalisers reorganize the water that flows past it. It frees water from harmful vibrational frequencies so that it tastes and is soft like spring water again. For example, the vitalizer reduces the harmful effects of electromagnetic radiation from transmission masts, electrical appliances, mobile telephones, microwave ovens, computers. The tap water also absorbs the negative radiation from parallel running electricity and Ethernet cables below street level. The Aqua Purica Royal series of water filters uses its own high-quality vitalizers. In the laboratory, the intermolecular spaces of the vitalizer are brought to the correct vibration. The water will take over that information and vibration, which corresponds to the frequency of pure spring water from nature.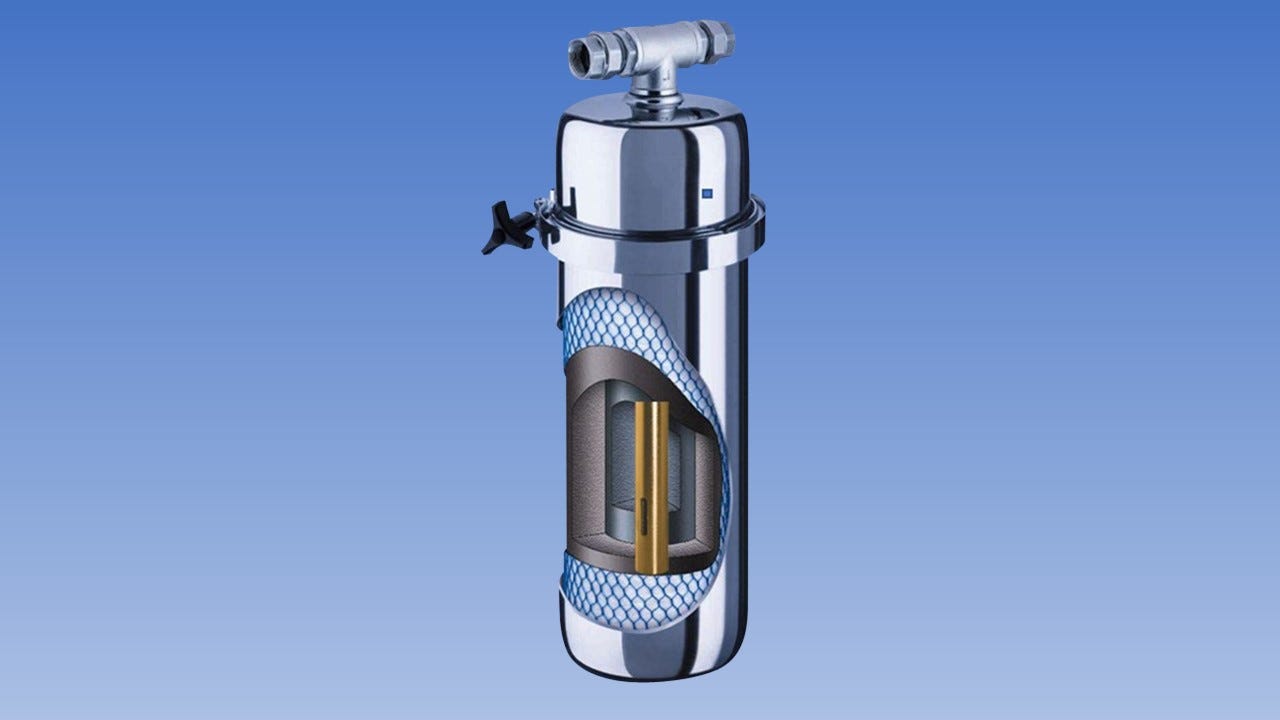 The Aqua Purica principle: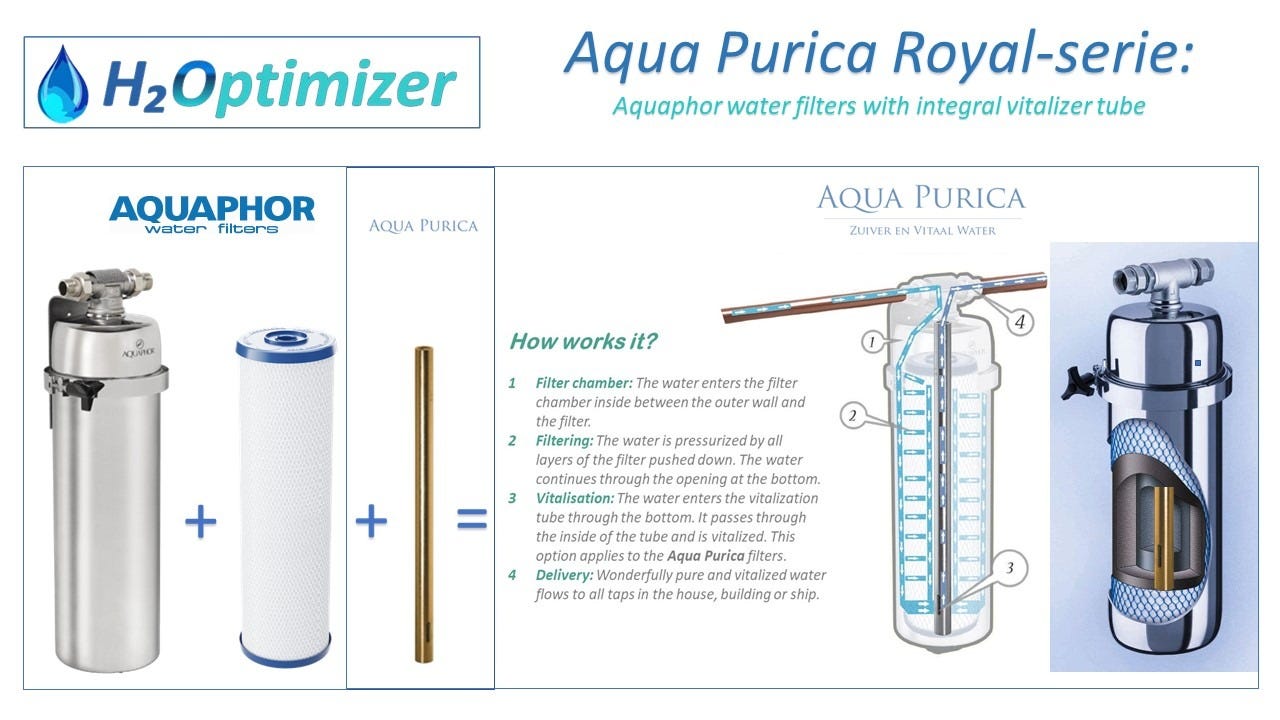 Aqua Purica Royal series water filters in a solid stainless steel housing


For installation directly after the water meter (POE: Point Of Entry), with the exception of the Aquaphor Mini at the tap (POU: Point Of Use)
Dual-core filter element: sediment and carbon filter
With patented Aqualen technology: ionizing Aqualen minerals bind heavy metals, chemicals, oils, etc., but not the useful minerals such as calcium and magnesium
Contains nano-silver particles for an anti-bacterial effect
Harmful substance removal (%):
Chlorine: -100%
Chloroform: -99.5%
Phenol: -98%
Petrochemicals: -99%
Pesticides: -97%
Lead: -99.5%
Copper: -98%
Cadmium: -99%
Also removes medicine and drug residues
Filter fineness of elements: 5 or 1 micron
For cold or hot tap water
Equipped with an integrated vitalizer tube
This model is placed at a tap (POU).
Water flow *)
Water pressure, max 6.9 bar
Connections 3/4 "(2x)
Dimensions / H x Diameter (mm) 225 x 180

*) Available filter elements:
B505-13 10 ltr / min | 5-micron | cold water
B505-14 10 ltr / min | 5-micron | hot water
Replacement interval 30,000 liters or after 1 year of use
This model is placed directly after the water meter (POE).
Water flow *)
Water pressure, max 6.9 bar
Connections 3/4 "(2x)
Dimensions / H x Diameter (mm) 425 x 180

*) Available filter elements:
B515-13 15 ltr / min | 5-micron | cold water
B515-14 15 ltr / min | 5-micron | hot water
B150-Midi 7 ltr / min | 1-micron | cold water
Replacement interval 60,000 liters or after 1 year of use
This model is placed directly after the water meter (POE).
Water flow *)
Water pressure, max 6.9 bar
Connections 3/4 "(2x)
Dimensions / H x Diameter (mm) 600 x 180

*) Available filter elements:
B520-13 25 ltr / min | 5-micron | cold water
B520-14 25 ltr / min | 5-micron | hot water
B150-Plus 10 ltr / min | 1-micron | cold water
*) Special filter elements: polypropylene sediment / anti-rust filters (pre-filtering)
B520-PP20 25 ltr / min | 20-micron | cold water
B520-PP5 25 ltr / min | 5-micron | cold water
Replacement interval 100,000 liters or after 1 year of use